The World Is At Your Doorstep!
Thanks for visiting the TWR360 Resource page. We are here to help you accomplish God's mission to make disciples of all nations!
Engage with the free Bible-based resources on www.twr360.org and the free app – and use the resources below to help even more people know God and walk with Him!
TWR360 Need Hope Cards
Use this unique ministry tool to invite others to find hope by visiting www.twr360.org where they can engage with bible-based content in their heart language. Download and print these free ministry resources or request some free, pre-printed cards.
---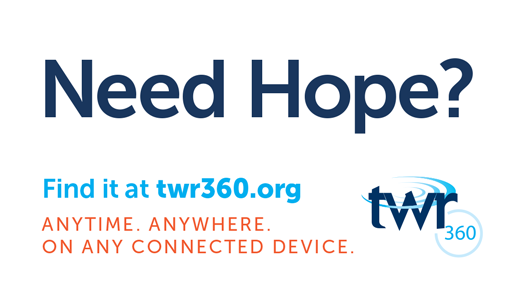 Front Side
Back Side
These files are designed to print on Avery Template 5871 Clean Edge.
Buy it on Amazon
or at your favorite office supplies store.
Request Cards
Click the button below to request free TWR360 cards delivered right to your door.
All orders are in multiples of 50 cards.
We currenly offer shipping to the continental USA.


Request
TWR360 Mobile App
Click the symbol for your preferred mobile operating system to download the FREE TWR360 app:
---
TWR360 Roku Channel
We are excited to announce the release of our new TWR360 Video Network Roku channel! You can find it by browsing the Roku channel store or by entering the code TWR360 in your Roku box.
You can also add the TWR360 channel to your Roku account by visiting roku.com
TWR360 Promotional Graphics
Use these graphics to help promote TWR360. You can use them on your website, in a presentation at church, or anywhere else. Right click and select "save as" to download the individual graphics, or download the full graphics promotional kit.
Full Kit


---
TWR360 Promotional Videos
Share the TWR360 Love video on your Facebook – and email the YouTube link to your friends – or show the video in your church!
---
TWR360 My World: U.S.
A U.S. taxi driver shares the message of God's love that can be found on TWR360.
TWR360 My World: Nigeria
A soldier in Nigeria listens to TWR360 as he seeks peace in uncertain times.
TWR360 My World: Taiwan
A young man in Taiwan listens to TWR360 and is reminded that, though he feels lost in the crowd, he is seen by the Lord.
TWR360 My World: Brazil
A university student in Brazil strengthens her faith by listening to TWR360 amidst differing world views.
TWR360 My World: Ukraine
A young Ukrainian mother finds hope and encouragement through the free biblical programs on twr360.org.
Jesus Loves YOU
Jesus loves you. Share the love of Jesus. Share this video from twr360.org.
Jesús Te Ama (Spanish)
RTM360 está aquí para compartir el amor de Jesús, y la esperanza que solo Jesús puede dar, en el idioma de tu corazón y de tu hogar.
TWR360 Brochure
Help yourself – and those in your church, small group, Bible study, or friends – to GO DEEPER with TWR360! This informative brochure highlights how TWR360 is ministry FOR me and ministry THROUGH me! Check it out!

(For best results, please use 28-lb paper with 100 brightness. Be sure to use the paper type formatted for your printer type! We've found that "Color Copy Digital" paper works great with a nice digital printer.)





Download