Sound Biblical Teaching for Nigeria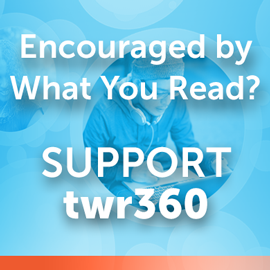 "Nigeria is much influenced by independent churches sharing [the] Prosperity Gospel most of the time, so there is a strong need to have a sound Biblical teaching," states TWR's Abdoulaye Sangho on today's Footsteps. You might be asking, "What exactly is the 'Prosperity Gospel' anyway?" Basically, it teaches that God wants to bless all of His children with health and wealth. It puts a dangerous focus on self and materialism. "But is it Biblical?" you ask. Absolutely not. Here's just one passage that clearly refutes it:
"If anyone teaches a different doctrine and does not agree with the sound words of our Lord Jesus Christ and the teaching that accords with godliness, he is puffed up with conceit and understands nothing. He has an unhealthy craving for controversy and for quarrels about words, which produce envy, dissension, slander, evil suspicions, and constant friction among people who are depraved in mind and deprived of the truth, imagining that godliness is a means of gain. But godliness with contentment is great gain, for we brought nothing into the world, and we cannot take anything out of the world. But if we have food and clothing, with these we will be content. But those who desire to be rich fall into temptation, into a snare, into many senseless and harmful desires that plunge people into ruin and destruction. For the love of money is a root of all kinds of evils. It is through this craving that some have wandered away from the faith and pierced themselves with many pangs.
"But as for you, O man of God, flee these things. Pursue righteousness, godliness, faith, love, steadfastness, gentleness." (1Timothy 6:3-11, ESV)
With many believers in Africa wrongly being taught that "godliness is a means of [financial] gain," it is vital that TWR broadcast solid Biblical teaching into countries like Nigeria.
Click here to learn more about TWR's Oasis Transmitter Project
Click here to listen to Footsteps' Latest Program
Click here to visit Footsteps
(Photo of Abdoulaye Sangho, TWR's International Director for West and Central Africa)